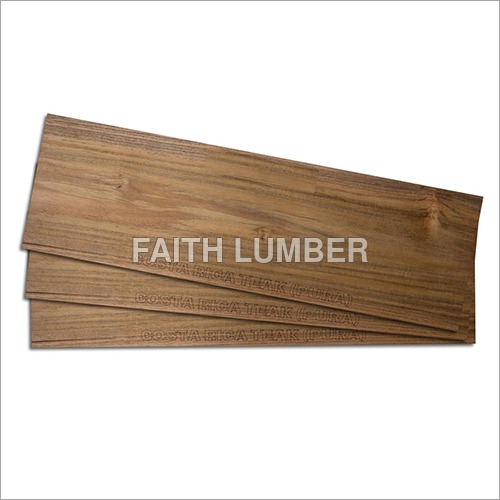 Teak Latin American Wood
Product Code : Teak Latin American
Product Description
Color / Appearance:

Tends to be light-brown, Heartwood color is darkening with age. It has less oil content, and is less durable than Burmese or African teak.

Grain / Texture:

With medium-sized open pores, the teak has a coarse texture. Its grain tends to be straight, or it can be wavy or interlocked. Also, the Teak has a slightly oily / greasy feel with its natural oils.

Rot Resistance:

Teak has been regarded as perfect standard for decay resistance. Resistant to termites, its heartwood is very durable.

Odor:

Leather-like odor when milled.

Sustainability:

This species of wood is not listed in the CITES Appendices, or on the IUCN Red List.

Common Uses:

Ship & boat building, furniture, exterior construction, veneer, turnings, carving, doors & windows.

Teakwood
Botanical Name: Tectona Grandis

Origin:Latin America

Average Dried Wt.: 18-22 kg/Cft
Uses
Furniture, Flooring, Interior, Exterior, Door
Common Sizes
Lengths: 3 ft to 10 ft
Widths: 3 inc to 10 inc
Thickness: 1.5 inch to 4 inch
Grades
Economy, Standard, Premium
Faith Recommendation
Furniture, Flooring, Door & Window Frames