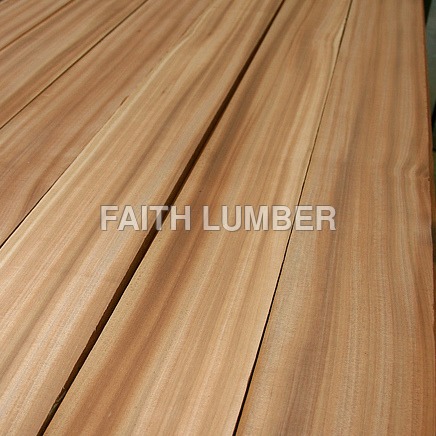 Sapele Wood
Product Code : Sapele
Product Description
Our proficiency in this domain enable us to offer an excellent variety of Sapele Wood to our valuable patrons. Offered wood finds numerous applications for making internal doors as well as wooden musical instruments. This wood is cut and finish in accurate dimensions by our deft professionals. Moreover, the provided Sapele Wood can be purchased from us at minimum prices.

Key Points:

Long lasting shine

Pest resistance

Fine texture
Decay resistant
Color/Appearance:

Heartwood has a medium to dark reddish brown color, or purplish brown. And the color tends to deepen with age.

Grain/Texture:

Grain is interlocked, and wavy at times. Good natural luster and fine uniform texture.

Rot Resistance:

In regard to decay resistance, Heartwood is durable. The Sapele is prone to insect attack, thus chemical/heat treatment is suitable.

Workability:
Sapele can be difficult to work in some machining operations like planning, and routing, etc. This results in tear out due to its joined grain. Also, it will react when place into direct contact with iron, turning discolored & stained. The Sapele has a minor blunting effect on cutters, and it glues as well as finishes well.

Odor:

African Sapele features a distinct, cedar-like odor while being worked.

Sustainability:

This species of wood is not listed in the CITES Appendices, but it is on the IUCN Red List.

Common Uses:

Veneer, cabinetry, plywood, furniture, flooring, musical instruments, turned objects, boat building, and other small units of wooden specialty.

Sapele Wood
Botanical Name: Entandrophragma Cylindricum

Origin: African

Average Dried Wt.: 17-21 kg/Cft
Uses
Flooring, Furniture, Veneer, Plywood, Interior
Common Sizes
Lengths: 3 ft to 14 ft
Widths: 3 inch to 12 inch
Thickness: 1.5"/2"/3"
Grade
Premium
Faith Recommendation
Flooring, Furniture, Interiors