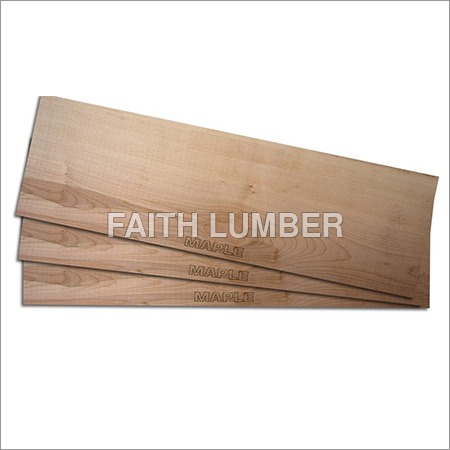 Hard Maple Wood
Product Code : Hard Maple Wood
Product Description
Hard Maple Wood
Botanical Name: Acer Saccharum

Origin: American

Average Dried Wt.: 18-22 kg/Cft
Color/Appearance:

The sapwood of hard maple is mostly used rather than its heartwood. Its color ranges from almost white to an off-white cream, and sometimes with reddish or golden tone. The heartwood has a dark reddish brown color.

Grain/Texture:

Generally the grain is straight, but may be wavelike. Has a fine and even texture.

Workability:

Easy to work with machine tool and hand. Hard maple has a tendency of burning while being machined with high-speed cutters. Glues, turns & finishes well. But, blotches can arise when staining. A pre-conditioner, toner or gel stain may be required to get an even color.

Rot Resistance:

Non-durable to perishable, it is susceptible to insects attack.

Odor:

No distinctive odor.

Sustainability:

This wood variety is not listed in the CITES Appendices, or in the IUCN Red List.

Common Uses:

Flooring, veneer, cutting boards, musical instruments, workbenches, baseball bats, and other specialty wood items and turned objects.

Uses
Flooring, Sports Goods, Gift Items, Hand Tools
Common Sizes
Lengths: 3 ft to 14 ft

Widths: 3 inch to 12 inch

Thickness: 1.5"/2"/3"
Grades
Economy, Standard, Premium
Faith Recommendation